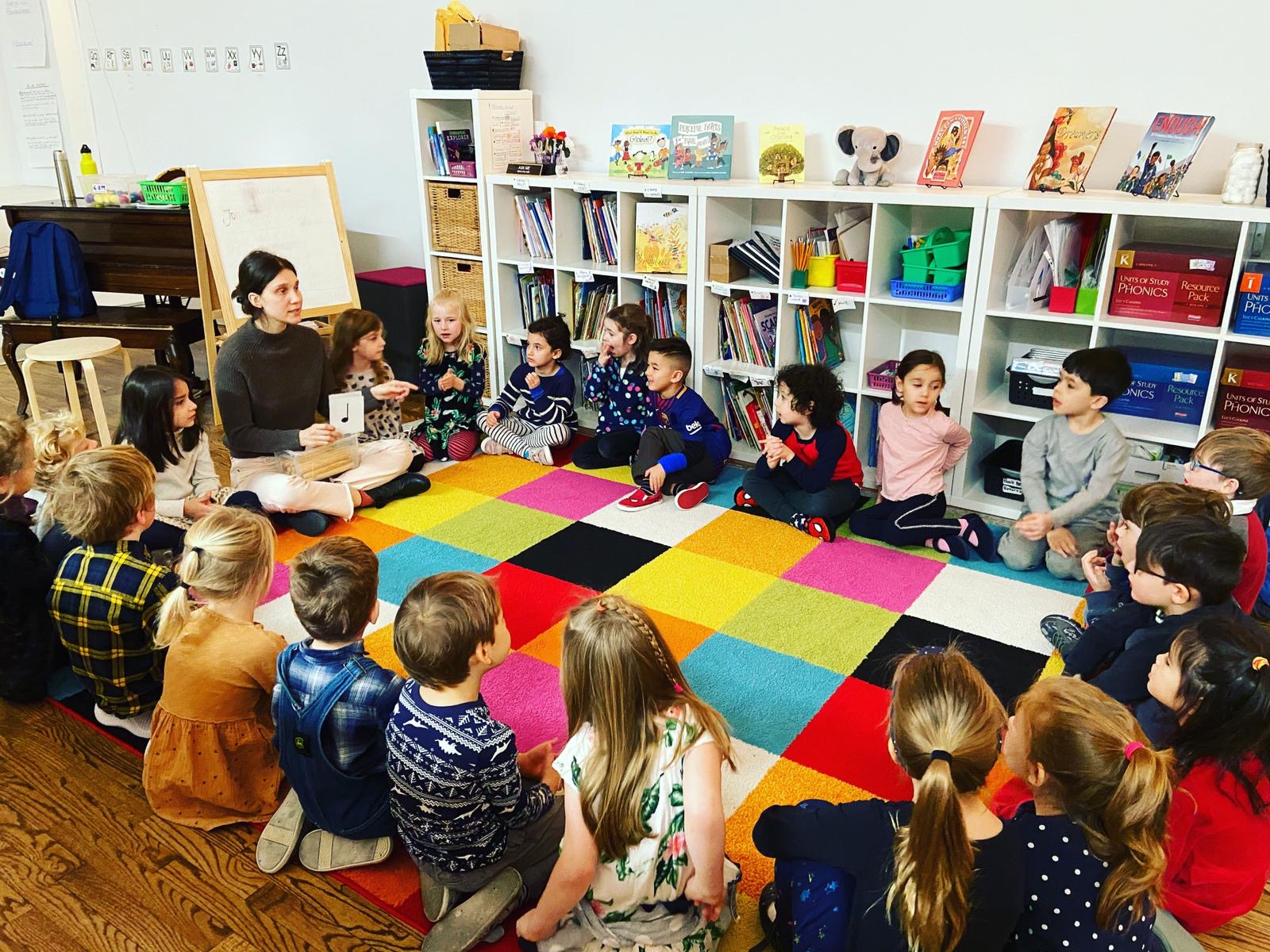 Please meet our team of highly qualified and motivated teachers and administrators. We are very much looking forward to building this school with the support and enthusiasm of such a fine group of educators!
My name is Maresa Carney and I am so excited to be teaching the Kindergarten class this year. I will be joining the  GSM family not only as a teacher, but also as a parent – my son, Constantin, is starting 2nd grade at GSM this fall. I am most looking forward to explore fun art projects with the children, while gently guiding them through the transition into a new routine. My background is in arts and education. I obtained my bachelors degree at Hunter College, where I majored in studio art as well as art history. Currently I am pursuing my masters for arts and education, also at Hunter College. I have taught at a German pre-K in Manhattan, at art after schools in Brooklyn, and have led a weekly German arts class for bilingual children on weekends. I can't wait to meet everybody soon in person!

Born in Chicago and raised in Zurich, Lydia grew up in a bilingual home filled with music, dance and art. After graduating from a specialized music high school, Lydia moved to Vermont to study dance and voice at Bennington College. Lydia moved to NYC in 2012 and has been teaching music and movement in public and private schools grades PreK – 4th grade through Third Street Music School and Turtle Bay Music School. Lydia is excited to broaden the curriculum to include German songs.

Julie received her Bachelor of Science in Early Childhood Education from Kent State University and is currently pursuing her Master's Degree in Teaching English to Speakers of Other Languages (TESOL) from Hunter College. Originally from Pennsylvania, Julie moved to NYC in 2018 and has been teaching in the city since. Having undergraduate experience teaching English in The Netherlands and receiving her International Baccalaureate certificate, Julie values inquiry-based learning, children's natural curiosities, and bilingual education. Julie is extremely excited to teach at GSM where a child-centered and bilingual curriculum helps shape future global citizens.

Dyala Kasim is a Masters student at Columbia University's American Studies program, where she specializes in immigration literature. Dyala has previously taught ESL courses and a class on 20th century immigration to New York City, and is extremely interested in the intersection of language, culture, and education. Dyala believes that the best classroom is one of reciprocal learning. Thus, she is very excited to teach at GSM, where this learning is constantly occurring.

As a born & raised New Yorker, Sydney holds a unique perspective on what it means to live in a city that has such rich history. She holds a B.A in Sociology from SUNY Purchase and will be earning her M.S degree in Early Childhood Education from Hunter College at the end of 2020. Throughout her studies, Sydney has taught young children from all walks of life and makes it her mission to incorporate diversity & inclusion into her daily pedagogical practice. Sydney values the importance of every child's feelings, experiences, and culture. She makes it her mission to foster a classroom that is full of independent, empathetic, and curious learners.

Having moved to NYC only in 2019, Lara is a "freshly-baked New Yorker." She holds a B.A. and a Masters of Education from Cologne University (German and English literary studies and Special Education) and she has taught at elementary and secondary schools in Germany and also at the German School Nairobi. Her teaching experience includes teaching social and behavioral skills to underprivileged children, children of refugees and students with learning difficulties. Lara trusts that every child is a capable learner. She strives to foster individual and independent learning to empower and enable students to make socially responsible and conscious decisions.

Beatriz Borobio has a Master's Degree in Teaching Spanish as a Foreign Language from the University of Barcelona – UNIBA (Spain). Her Master's final thesis was a study of oral interaction through interactive activities with young learners in the online classroom. She has a large experience in the educational field, teaching both Spanish and French in Singapore, as well as in various private centers in New York City.

She is an associate teacher at Instituto Cervantes in New York, where she teaches Spanish to adults, teenagers and children. Beatriz is also accredited as an examiner of the DELE A1-A2 and B1-B2, the official qualifications certifying the degree of competence and mastery of Spanish.

 

Barbara Remus is the Managing Director of the Galli Theater New York, a theater that is located within the German School Manhattan. Barbara, born and raised in Germany, has been living in the US for 20 years, and calls New York City her home. She and her team are excited to be hosting theater classes not only as part of the school's afterschool program as well as camps and workshops for kids and adults in German as well as English. The Galli Theater NY is also offering live fairytale-  and educational performances for families as well as shows for adults on their stage within the GSM. Please see their website for further details: 

www.gallitheaternyc.com

I was born in the United States and raised in Austria. Going to a Steiner School fostered my interest in many fields such as craft, communication and music. After finishing my apprenticeship in carpentry I started studying Medicine and Math in Graz and Vienna before I chose Music and Dance Education at the University Mozarteum in Salzburg. There I finished my Masters in Early Childhood Music Education and focused my final thesis on how to teach a second language with the help of music & movement. I put this into practice teaching English in a preschool in Barcelona for 2 years, using my own language-teaching program.

In New York I've worked as a performer, music and German teacher (in preschool, music school and giving private lessons).

I'm classically trained in piano, violin and percussion and love to make music in my free time. I also love being outdoors doing sports such as sailing/surfing, skiing or rock climbing.

Max also offer private instrument lessons.